ABSTRACT SUBMISSION
__________________________________________________

To submit your abstract, you must be already registered at the event.

The abstract should be typed in the space available (about 2000 characters) according to the template below.

Deadline for abstract submission: April 30th, 2015.

Each registration allows the submission of 2 (two) abstracts.

Each abstract must be submitted by only 01 (one) of the authors.

All abstracts will be presented as POSTER.

All abstracts must be submitted in ENGLISH.

Posters dimensions (Maximum): 0.90m width X 1.20m height.
ATTENTION
ON SUBMITTING YOUR ABSTRACT, ALL AUTHORS MUST BE LISTED.
THE CERTIFICATE WILL BE DONE BASED ON THE INFORMATION ON YOUR REGISTRATION.
STUDENT STIPEND
To apply for a Student Stipend, submit your abstract until April 30th, 2015. The Scientific Committee will review the applications and the result will be released until May 15th, 2015. The following items are mandatory for the Scientific Committee to consider your request:
Registration at the 15th NMR Users Meeting as student (graduate or undergraduate) and Postdoctoral

At least one abstract submitted.

A recommendation letter from your supervisor, to be sent to the e-mail:

nmrmeeting2015@nmrmeeting2015.net.br,

and put in the e-mail subject:

YOUR NAME - STUDENT STIPEND.

Payment of the registration fee until April 30th, 2015.
The exact amount of the Stipend will be decided by the Organizing Committee based on the number of applicants.

TEMPLATE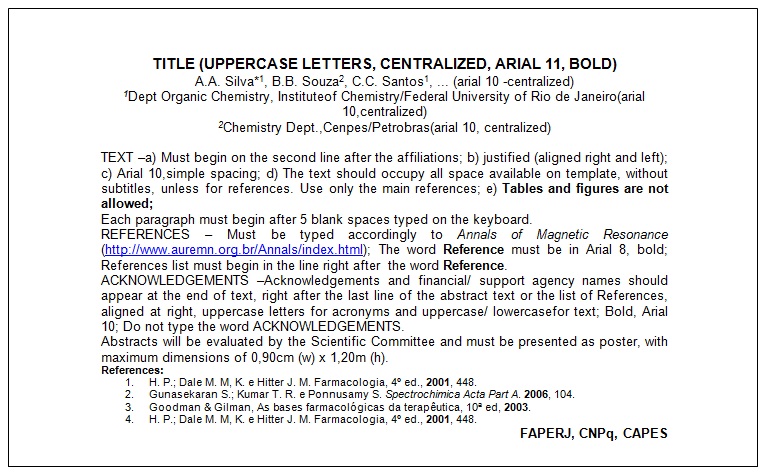 CLICK HERE TO DOWNLOAD THE TEMPLATE
Deadlines
Early Bird Registration

Abstract submission